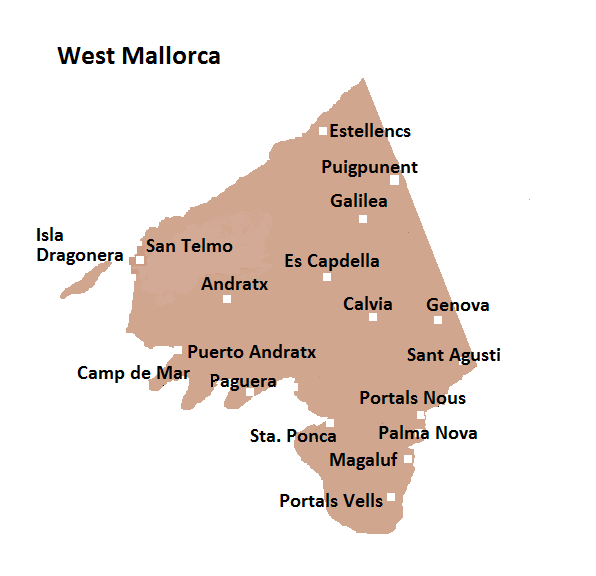 DESCRIPTION OF THE AREA
In Western Mallorca most of the coastal towns are popular holiday resorts and there are fine beaches at Palma Nova, Santa Ponsa, Magaluf, Paguera, Camp de Mar and San Telmo (from where you can take a boat to the island of Dragonera).
North Coast
Heading north from Andratx the coast road offers spectacular views and there are impressive examples of terracing around Banyalbufar dating back to the Arab occupation.  
Inland, Galilea and Puigpunent are attractive hill towns near the mountain of Galatzo with La Reserva Natural Park nearby.
Calvia area
Calvia is a pleasant typical Mallorquin town which houses the administration for most of this area. To its north, via the residential estate of Son Font, there is a popular walk to Galilea over open country.
Other well-maintained walks lead from Calvia to Capdella and on to Paguera. There are also many walks in the region of San Telmo. A long trail known as the Dry Stone Route commences in Puerto Andratx and finishes at the other end of the island in Pollenca, taking in the whole length of the Tramuntana mountain range. 

View on the walk from Son Font to Galilea                    Photo by Claire Baker
Listed alphabetically by location
Finca Galatzo
Road from Capdella to Galilea Km 2.2. Tel: 971 130 577
Open 9.00 to  17.00 weekdays, 9.30 to 14.30 weekends. Property now owned by Calvia Council. Renovated house with working olive press. Situated in hundreds of acres of open country with extensive walks. 
Caves of Genova
C/. Barranc 45, Genova. Tel: 971 402 387
Open 10.00 to 20.00 Tuesday to Sunday and 10.00 to 17.00 on Monday. Web: cuevesdegenova.com/en. The smallest of the many caves on the island but very attractive. Allow around 1 hour for the guided tour. The caves are linked to a restaurant and tickets can be for the tour only or including lunch.
Mallorca Karting
C/. de la Porrasa, Magaluf. Tel: 971 131 734
Open 11.00 to 20.00. 900 metre circuit. More info at www.kartingmagaluf.com.

Pirates Adventure.
Cami Porrassa 12, Magaluf. Tel: 971 130 659
Web: globobalear.com. Spectacular show, meal and drinks are included in the fairly high ticket price. The doors open at 18.00 and the show starts at 19.00. There is ample parking. This performance is suitable for children, there is also an adult show late on some nights.
Fantasia Golf
C/. Tenis 3, Palma Nova. Tel: 971 135 040
Set in a tropical garden. There are three 18-hole courses, a cafe and a bar. Very popular with tourists so can be somewhat crowded in season.
Marineland
C/. Garcilaso de la Vega 9, Costa d'en Blanes, Nr. Portals Nous. Tel: 971 675 125
Open 9.30 to 17.30. Closes end October for the winter. Dolphinarium and marine zoo. Also features exotic birds, penguins, sea rays and sea lions.  Very popular tourist attraction. Does excellent work in marine research and care of injured dolphins.
Reserva Puig de Galatzo
Predio Son Net, Puigpunent. Tel: 971 616  622
Web: lareservamallorca.com. Open 10.00 to 18.00
An extensive nature park with plenty to interest both children and adults including zip wires and rock climbing. 3.5 km hike around perimeter seeing animals and birds including eagles, vultures and hawks.
Fiestas del Rei Jaume
Held during the first week of September in Santa Ponca to celebrate the  landing of King Jaume I  and his reconquest of Mallorca from the Moorish occupation. There is a fire parade with devils and demons, a parade of giants, a medieval market, sporting events, art shows together with dancing in the evening.  One major event is an enactment of the battle when King Jaume landed. A firework display ends the proceedings.

San Telmo to Isle of Dragonera
A ferry boat leaves San Telmo twice every hour from 9.45 to 16.50 from April  to September,  15.00 in October, February and March. Not available November to January. The journey takes around 20 minutes. Cruises from Paguera and Santa Ponca also call at the island for about an hour.

Listed alphabetically by location
Restaurant C'an Paco
C/. Pedro Seriol 8, Sa Coma, Nr. Andratx. Tel: 971  137 908 
Open 12.30 – 16.30 and 19.00 – 10.30 . Closed Monday. Excellent menu del dia is modestly priced. Specialities include grilled meats and typical Mallorquin fare. We like the fine view over the hills from the large terrace which can seat 100. The restaurant is popular with the expat community and is frequently used by clubs and associations. 
Las Terrazas de Bendinat
Hotel Bendinat, c/. Andres Ferret Sobral 1, Bendinat. Tel: 971 675 725
The extensive menu includes tapas, carpacios, pastas, paellas. fish and grilled meat. Spectacular sea views from the terrace. Upper price range. We like the superb location and the high standard of cooking and presentation.
Lindner Hotel
C/. del Arquitecto Fransisco Casas 18, Bendinat. Tel: 944 581 177
Off road from Portals Nous to Palma Nova. Attractive modern hotel with a safari theme. We especially like the fixed price Sunday buffet lunch with cava.
Bar Sa Societat
Carrer Major 2, Calvia. Tel: 971 138 369
Closed Wednesday. This modest bar/restaurant offers an inexpensive menu del dia and a choice of other meals of excellent quality at low prices. No ambience but we like it for a satisfying meal or snack. Very popular with cyclists and can be noisy. 
Restaurant C'an Torrat
C/. Major 29, Calvia. Tel: 971 670 682
Open evenings only. Family run with meats cooked on open grill.  Good choice of wines. We like it for the fresh vegetables and quality meat.
Restaurant Illeta
On the island, Camp de Mar. Tel: 971 235 884
Open from 12.00 to midnight. Relatively expensive with varied menu. We like the unique location reached by a walkway from the beach.
Bar Nou
C/. Major 7, Capdella. Tel: 971 233 170
Spanish food at moderate prices. Family run. Popular with locals. We like it for good value and a wide choice.
Sa Vinya
Carrer de l'Eglesia 7, Capdella. Tel: 971 138 563
Situated in the square alongside a large free swimming pool. Typical Mallorquin restaurant serving good food including pizzas and a menu del dia at modest prices. Vegetarian friendly. We like the friendly service and the excellent value.
Cafe Sa Placa de Galilea
Placa Pius x11, Galilea. Tel: 971 147 206
Open 10.00 – 19.00.. Modest bar/restaurant with fantastic view from the terrace. We like it for its interesting selection of inexpensive tapas and the location. 
Meson La Rueda 
C/. de Rector Vives 5-11, Genova. Tel: 971 403 460
Open 18.30 – 23.30, Closed Monday. Small friendly restaurant. Grilled meat is a speciality. We prefer this restaurant in cooler weather as there is no terrace.
Restaurant C'an Pedro
C/. Rector Vives 14, Genova. Tel: 971 404 341
Open 12.30 to midnight. Mallorquin with a wide range of meats and fish. Very popular with the locals and can be a little noisy. Excellent food at medium to upper price ranges. We like its two car parks because parking in Genova can be a problem..
Es Reco de Genova
C/. de Sa Coma 10, Genova. Tel 971 702 960
With views over Genova from its large restaurant, this establishment offers traditional Mallorquin and international dishes. We like its excellent menu del dia which is very reasonably priced.
Restaurante Casa Jacinto
Cami Tramvia 37, Genova. Tel: 971 401 858
Web: casajacinto.es. Open every day from June to October. From November to May closed Wednesday. Mallorquin restaurant specialising in meat and fish cooked on an open grill. Reasonable prices for this quality. We like the fact that it offers good value and free car parking.
Restaurante Sa Caseta
C/. Isidro Gonzalez 1, Genova. Tel 971 402 640
Open 13.00 – 16.00 and 19.00 to midnight. Mallorquin cuisine. Specialities include cod and lechona. We like the well presented meals at reasonable prices.
Restaurant La Gritta
C/, Espiga 9, Aldea II,  Cala Fornells, Paguera. Tel: 971 686 022
Open 13.00 – 15.30 and 19.00 – 22.30.  Upmarket restaurant with prices to match. Very good fish and meat. We like the old-fashioned sweet trolley with its wide selection and the view over the coast from the cliff top location.
La Hacienda Steak House
Pau Casals 1, Paguera. Tel: 971 685 473
Open from 18.00 – 1.00. Excellent steaks, also fish. Your choice from the extensive salad bar is included in the reasonable price of the main course. Highly recommended and frequently patronised by all of our team.

Restaurant Mar Y Mar
C/. Pinaret 1, Paguera. Tel: 670 528 665
Open from 10.00 to midnight. Fish is the speciality at this beachside restaurant. Choice from a salad bar is included in price of main course. We like the setting and the fair prices.
Cafe Palmanova (formerly Amadip)
Autopista Palma – Andratx Palma Nova exit. Tel: 971 597 300
Open 8.00 to 19.00 weekdays and 9.00 to 19.00 Saturday and Sunday. Located alongside the large car park. Excellent food, well presented in pleasant surroundings. We like the fact that this is a non-profit operation assisting employees with mental disabilities – part of the Esment Project.  
Le Petit Bistro 
Paseo del Mar, Palma Nova. Tel: 971 681 151
Open 13.00 to 23.00 every day. Small French style restaurant on the sea front offering quality French cuisine at medium to higher prices. A menu del dia is available for lunch. We like the location overlooking the beach.
Restaurant La Piazzetta
Paseo del Mar 10, Palma Nova. Tel: 971 683 177
Open 12,00 – 23.30. Wide choice of fine thin-crust pizzas, also pasta, fish and meat Italian style. We like its location on the  seafront with a fine view of the Bay of Palma.

Restaurant Modigliani
Passeig Mar 2, Palma Nova. Tel: 971 683 279
Comprehensive Italian menu. We like its authentic food and its attractive seafront location.
 O´Neills
Carrer de Paris 8-9, Palma Nova. Tel: 971 681 751
Open Wednesday-Saturday 13.00-21.00. Sunday 13.00-18.00
Specialities include fish and chips and steak and Guiness pie. Roast chicken, beef and lamb on Sundays. Popular with locals and expats. Moderate prices. Can be rather noisey if a sporting event is on television. 
La Opera
C/. Palma – Andratx 29, Portals Nous. Tel: 971 675 247
Open 19.00 to 23.30 Wednesday to Saturday and 13.00 to 16.00 on Sunday. We like its Italian cuisine at reasonable prices.

Restaurant Casa Paco
C/. Marina 2, Portals Nous.  Tel: 971 677 281
Open for breakfast, lunch and dinner. Central location south of main street. Popular menu del dia at modest cost. We like its convenient location and excellent value.
Restaurant Barlovento
Cami Vells des Far 1, Puerto Andratx. Tel: 971 252 224
Open Monday – Thursday 13.00 – 22.30. 23.00 Friday – Sunday. Seafood in the medium to upper price range. We like its location on the water's edge on the far side of the port. 
Restaurant Mar Blau
Ave. Almirante Riera Alemany 24, Puerto Andratx. Tel:  971 673 983
Open 10.00 – midnight. Located at the very edge of the water. We like its moderately priced menu with a wide choice.
Restaurant Mother India
Gran Via 19, El Toro (Nr. Santa Ponca) Tel 871 178059
Open Tuesday – Sunday  13.00 – 16.00 & 18.00 – 23.30. Monday 16.00 – 23.30. Authentic Hindu cuisine including vegetarian at modest prices. Take-away available. We like the high quality of the inexpensive cuisine.

Restaurant Vista Mar
Av Jaume 1, San Telmo. Tel: 9781 237 547,
Open 13.00 to 22.00. 
Spanish seafood in a superb location looking out to island of Dragonera. We like the fair value and the great view. 
Restaurant Bistro 49
Gran Via 49, El Toro (Nr. Santa Ponca) Tel: 971 234 168
Open 13.00 to 16.00 and 18.00 to 23.00.  Closed Monday. Mediterranean and European food at reasonable prices. We like the superb fish and chips on Fridays which is very popular with many regulars. 
Restaurant Vivo
Av. Rei Jaum No 96, Sant Ponca. Tel: 971 690 469 Open 12.00 to midnight. German run, varied menu in upper price range for dinners but an inexpensive menu del dia is available for weekly lunch. We like the quality of the food and the efficiency of the service. 
Restaurante El Faro del Toro
Port Andriano, Mod 4, Local 3, 07184 El Toro (Nr. Santa Ponca) Tel: 971 232 676
Open every day, 12.00 to 24.00 in summer, 12.00 to 23.00 in winter. Features  a varied menu with seafood as a specialty and an excellent value menu del dia. We like the friendly service and the interesting location on the edge of the port.