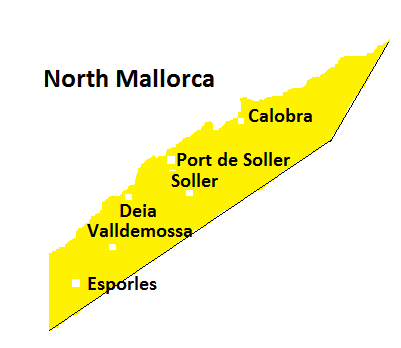 DESCRIPTION OF THE AREA
The mountainous Tramuntana area  dominates northern Mallorca. The coastal towns take advantage of gaps in the cliffs but there are very few good beaches. The Cala at Deia used to have a sandy beach but it was washed away in a storm and is now shingle, however it is still a very pleasant spot with two restaurants.
Esporles is an attractive town with a tree-lined main street. Nearby, the working example of a major country estate at La Granja is very much on the tourist trail but well worth a visit. 
Valdemossa exploits its connection with Chopin and George Sands but the Cartuja is a major attraction. The port of Valdemossa is some distance away, reached via a narrow winding road.
Soller is an attractive town, connected to Palma by an antique railway and more recently by a tunnel which avoids a difficult drive over the mountains. It has a distinct French influence due to its having been the home of many fruit traders from France.
Puerto Soller is connected to Soller by old trams. From the large harbour one can take a boat to Calobra and the beach at the mouth of the Torrent de Pareis – the road down is not for the feint-hearted driver.
The picture below, taken by Dr Michael Stoma, shows the ancient tram departing from Soller for the port.
Listed alphabetically by location
Jardines de Alfabia
C/. Palma/Soller at Km 17, Bunyola. Tel: 971 613 123
Open 9.30 to 17.30. Closed November to February. Combination of an historic house and an Arab style garden with many water features. There is also a tropical garden, a bar and a cafe.
Robert Graves Museum
Soller Road, Deia. Tel: 971 636 185
Jointly operated by the Balearic government and Deia council. Sympathetic conversion of the house where Beryl and Robert Graves lived for many years. It displays many examples of his work and features an excellent introductory film prior to a tour of the house.
La Granja
C/ Banyalbufar Km 15, Esporles, Tel:  971 610 032
Web: lagranja.net. Open 10.00 to 18.00. A working example of a large mallorquin estate. A tour reconstructs the traditional Mallorquin way of life from arab times to the 20th centuary. There is a cafetaria and a gift shop selling local produce.

Monastery of  Our Lady of Lluch
Placa Peregrins 1, Lluch. Tel: 971 871 525.
Open 10.00 to 13.30 and 14.30 to 17.30. The large monastery dates from the 13th century. It houses a small statue of the Virgin of Lluch (La Moreneta) which was found nearby. There are 120 rooms available to travelers at modest cost, 39 are in the form of small apartments with a kitchen. Its choir – Els Blauets – are world famous. There is much to see and the monastery attracts many tourists. A restaurant serves light meals including tapas, crepes and hamburgers 
Battle of the Moors and Christians (Es Firo)
Enacted in Soller on the Monday evening following the second Sunday in May. Commemorates a victory by the residents against an attack by pirates in 1561.
Soller Botanical Garden
C/. Palma/Puerto Soller Km 30.5, Soller. Tel 971 634 014.
Open November, January and February 10.00 to 14.00 from Tuesday to Saturday. March to October 10.00 to 18.00 Monday to Saturday. Web: www.jardinbotanicde soller.org. This is a center for conservation and research of Mediterranean flora. There are extensive gardens and a museum.
Cavalcade of the Triumphant Carriage
Held in Valldemossa on July 18th. One of the most charming processions on Mallorca. Santa Catalina Tomas is represented by a young girl accompanied in a large cart by twelve even younger children. Highly decorated donkey carts lead the procession and the town is decorated for the occasion.  
La Cartuja & Palace of King Sancho
Placa de la Cartoixa, Valldemossa. Tel 693 673 180
Open 10.00 to 16.30, Closed Sunday and from November to January.
Once the refuge of Chopin and George Sand for an epic winter. Chopin's piano is on display together with a well preserved pharmacy. There are piano concerts throughout the day from March onwards. A visit to the nearby palace is included in the admission price.
Listed alphabetically by location
Ca's Patro March Restaurant
C/. Sa Cala, Deia. Tel: 971 639 137
Open 12.30 to 1800, also 20.00 to 22.00 in July and August. Closed November to April.
First visited by us in 1954. Striking location at edge of the Cala. Fresh fish are the speciality but there is a varied menu. Featured in the BBC series The Night Manager. We like this restaurant because of the friendly atmosphere and the location above the beach. but it is very popular and reservation is essential during the tourist season.
Na Foradada
Ctra. de Valldemosa KM 65, Son Marroig, Nr. Deia. Tel: 971 636 084
Open from 12.30 to 22.30. Closed Monday
Situated close to the car park, Typical Mallorquin menu includes fish, paella and meat at reasonable prices. We like the good sea views from the dining room. 

Restaurant Sa Foradada
Diseminado Sa Forada 2, Son Marroig, Nr. Deia. Tel: 616 087 499
Open 12.30 to 16.00 from April to October. Closed Thursday.
This restaurant is best approached from the sea but can be reached via a long path down the cliff from Son Marroig. Booking is essential and can be made from 10.00 to 12.00. Food is cooked over a wood-fired grill and includes seafood, paella, fish and salads. We like the very unusual location.
Restaurant Xilini
C/. Arxduc Luis Salvador 19, Deia. Tel: 971 639 139
Open Tuesday to Sunday from 14.00 to 23.00. Varied, moderately priced menu of European and Spanish dishes including lamb, tapas and fish.  We like the comprehensive menu.
Restaurant Cán Quet
On Valldemossa to Deia road about 1 km from Deia. Tel: 971 639 196
Open Tuesday to Sunday from 19.00 to midnight. This restaurant offers grilled meat and fresh fish on a varied menu at reasonable prices.  We like the ample parking.
Kingfisher Restaurant
C/. San Ramon de Penyafort 25, Port de Soller. Tel: 971 638 856.
Open Tuesday to Saturday from 12.30 to 15.30 and 18.30 to 11.30. Located overlooking the port. Extensive European and Mallorquin menu at reasonable prices. We like the location and general atmosphere.
Restaurant Agapunto
Cumin del Faro 2, Port de Soller. Tel: 971 633 860
Open 12.00 to midnight except Wednesdays. Located on west side of the port. Mediterranean menu with moderate to upper prices. We like the live music on many evenings
Restaurant Bens d'Avall
On the Deia/Soller road at Km 56, near Soller. Tel: 971 632 381
Open Wednesday to Sunday 13.00 to 15.00 and 19.30 to 22.oo. This is now an up-market restaurant in a charming location serving Balearic cuisine in the higher price range. We like the attractive location.
La Casona Restaurant
Placa de sa Contitucio 2, Soller.  Tel: 971 630 366
Open 8.00 to 23.00 Monday to Saturday and 10.00 to 23.00 on Sunday. Located in the main square. Offers typical Mallorquin fare at moderate prices. We like the opportunity for people watching.
Es Taller (The Workshop)
C/.  de Santiago Rossinol 1, Valldemossa. Tel: 971 616 396
Open 13.00 to 16.00 and 19.00 to 22.00. Closed Monday. Absolutely no ambience but popular for good food at very modest prices. We like the ample parking nearby.
Restaurant Ca'n Costa
On Valldemossa/Deia road at Km 69.9  near Valldemossa. Tel 971 612 263
Open Wednesday to Monday from 12.30 to 16.00 and 19.30 to 23.00. Family run restaurant in a pleasant location with ample parking. 
Menu includes tumbet and snails and there are also plenty of European dishes. We like the dining room which was an old olive press but you can also eat outside.
Restaurant Quita Penas
Carrer Vell 4, Valldemossa. Tel 626 840 006
Open 12.00 to 16.00 and 18.30 to 21.30. This is a small tapas bar offering good food at modest cost. It is located in a cobbled street near the Cartuja. We like the family run atmosphere.
Restaurant Sa Mata
C/. del Marques  del Vivot 10, Valldemossa. Tel: 971 612 147
Open Wednesday to Monday from 12.00 to 20.30. Web: restaurantsamata.es. Popular restaurant in a central location. Mallorquin and international menu including paellas and other typical Spanish dishes. We like the terrace which is an excellent spot for people watching.