DESCRIPTION OF THE AREA
Recommended restaurants and places to visit in Eastern Mallorca are mainly located inland around Manacor and Capdeperra  and on a coastal stretch from Cala Rajada to Porto Cristo.
Cala Rajada was once a fishing port but it is now a holiday resort. There are good beaches nearby and the Jardines Casa March contain a fine collection of sculptures.
Capdeperra is on a hill and features a castle dating back to the 14th century. Arta also boasts a castle on a hill to reward a steep climb, its  Regional Museum of Art contains many interesting exhibits..
Coastal Towns
Cala Millor and Porto Cristo are typical seaside resorts but the Coves de Drac (caves of the dragon) near Porto Cristo are truly dramatic although somewhat commercialised  with stage lighting, a musician in a boat on a lake and seating for spectators. Much the same can be said for the Coves dels Hams slightly to the west.
Inland – Arta, Manacor and Capdeperra
Manacor is a large town noted for the manufacture of furniture and artificial pearls.  A visit to a pearl factory is high on the agenda for many tourists. Arta is more attractive and features a castle on a hill.
The picture below, taken by Dr Michael Stoma, shows the coast near Porto Petra.-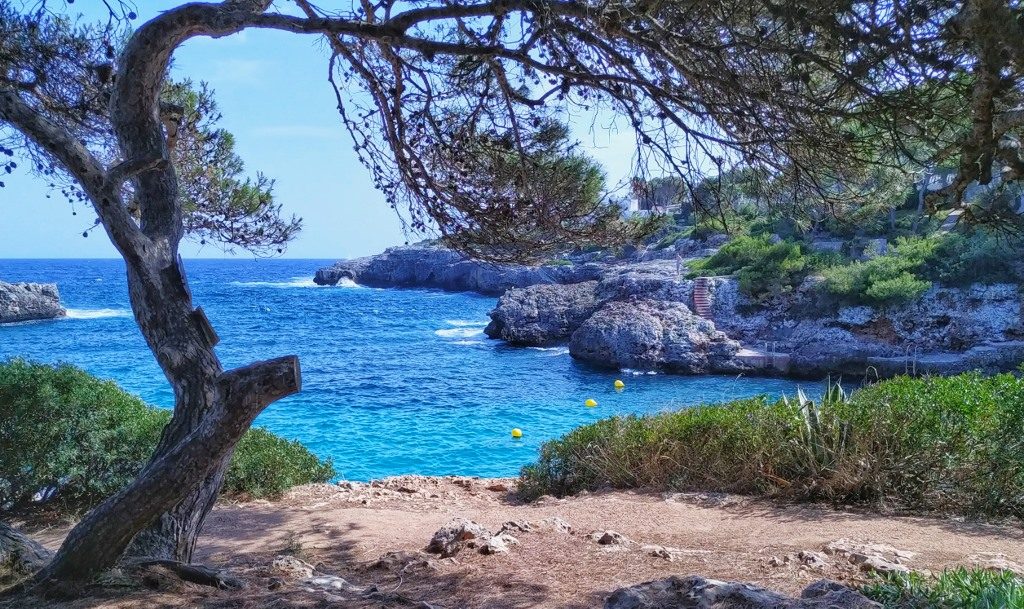 Listed alphabetically by location
Museum of Arta
C/. Estel 4, Arta. (Nr. Town Hall). Tel: 971 829 778.
Open Tuesday to Saturday from !0.00 to 14.00. Restored by the Sa Nostra bank this small museum features natural history and archeology including a collection of stuffed birds.
Bartolome March Garden
Sa Torre Cega, C/. Juan March 2, Cala Rajada, Nr. Capdepera. Tel 971 711 122 or 689 027 353
Viewing by appointment  only. A unique collection of 20th century sculptures by leading artists and an interesting botanical garden. The grounds are also used for concerts in the summer months.
Castle of Capdeperra
(Web: capdeperracastle.com) Tel: 971 818 746
The 14th century castle at  Capdeperra is the largest on Mallorca. It dominates the town and offers fine views from its walls. A medieval market is held in the town on the 3rd weekend in May.
Caves of Arta
Carretera de las Cueves, Capdeperra. Tel: 971 841 293.
Web: cuevasdearta.com/en. Open 10.00 to 19.00. Tour lasts around 40 minutes. Features of a visit include a light and sound display. One chamber is the size of the nave of St Paul's cathedral. Somewhat commercialised but very impressive with good lighting effects. Path can be wet so wear shoes with good grip. 
Torre de Canyamel
Ave. Canyamel KM5, Capdeperra.
This impressive fortified tower is open to the public from 10.00 to 20.00. Access to the top is via a slightly difficult spiral staircase but is rewarded by fantastic views. It is arouind 700 years old and contains a small exhibition of agricultural and domestic machinery.
Majorica Pearls. 
Via Palma 9, Manacor. Tel: 971 550 900
Open 9.30 to 17.00 Monday to Friday and 9.30 to 13.30 on Saturday and Sunday. Factory and shop. Wide variety of jewellery and necklaces featuring artificial pearls. Free guided tour.
Nadal Tennis Academy & Museum
Cales de Mallorca s/n Km 1.2, Manacor. Tel: 971 171 683
The museum experience includes simulators for tennis, formula 1, hockey and mountain cycling with use of virtual reality. The academy offers a fitness center, 26 tennis courts, a 25 metre pool and a gym.
with ample parking. There is also a cafe/restaurant serving fitness food. One week residential courses are available for children and adults with tennis training.
Caves of Drach (The Dragons Caves)
Ctra. Cueves, Porto Cristo. Tel: 971 820 753.
Open 10.00 to 17.00. Web: www.cavesdeldrach.com/es. These well illuminated caves stretch for around 1200 metres and include one of the world´s largest underground lakes. 
Caves of Hams
Ctra. Ma 4020 Km 11 near Porto Cristo. Tel 971 820 988. 
Open 10.00 to 16.00. Tour takes around 1 – 2 hours. Consists of 3 main caverns with dramatic lighting. These caves are possibly 10 million years old.

Safari Zoo
Carretera Porto Cristo  Km 5,  Near Porto Cristo. Tel: 971 810 909
Open: 9.30 to 18.30. Relatively small Safari Park well stocked with monkeys, lions, tigers, giraffes, chimps, zebras, lemurs, mere cats, elephants, rhinos, hippos, llamas. crocodiles and parrots. Can be toured in a miniature train. Very suitable for children.
Aloe Vera Farm
On Sta Margalida to Arta road at Km 3.4. Tel: 687 687 358. 
Open Monday  to Friday 10.00 to 17.00. Farm can be visited by appointment. Wide variety of aloe vera products are available in shop on site.
Karting Santa Margalida
C/. Alcudia to Arta at Santa Margalida. Tel 971 850 748. Web: www.yumping.com. Boasts a 1600 metre circuit – the longest on the island
Listed alphabetically by location
Cafe Parisian
C/. Ciutat 18, Arta. Tel: 971 855 440
Open Monday to Saturday 10.00 to 24.30. Sunday 11.00 to 24.30. Despite its rather poor rating on Trip Advisor we have found this restaurant to be satisfactory on the three occasions we have visited it. Service was rather slow but the food was good and reasonably priced. We like the garden restaurant which is very pleasant on a hot day.
Restaurante Es Castell
C7. Major 47, Capdella. Tel 685 522 988
Open 7.00 to 22.30. Mallorquin cuisine in attractive surroundings. An inexpensive menu del dia is available from Monday to Friday. We like the convenient location and general ambience.
Restaurant Torre de Canyamel
Ave Canyamel, Km 5 Capdella.
Open 10 to 15.00 and 17.00 to 20.00. Located inside the distinctive tower but with outdoor eating option, this restaurant offers a wide choice including a speciality – suckling pig – at moderate prices. We like the unusual location.