DESCRIPTION OF THE AREA
Few cities in the mediterranean offer as many beautiful buildings, museums, art galleries, theaters. cinemas and well-stocked shops as Palma de Mallorca. Add to that a very wide choice of restaurants in Palma and free spectacles such as the annual Sa Rua carnival and you have a truly unique mix.
Places to visit
The listings in this section relate to locations in the city and others within the Via Cintura ring road that surrounds it including the unusual circular castle of Bellver and the Plaza de Toros (bull ring) which is now used for concerts and other events. The picture below, taken by Dr Michael Stoma, shows Palma Cathedral and part of the Almudaina Palace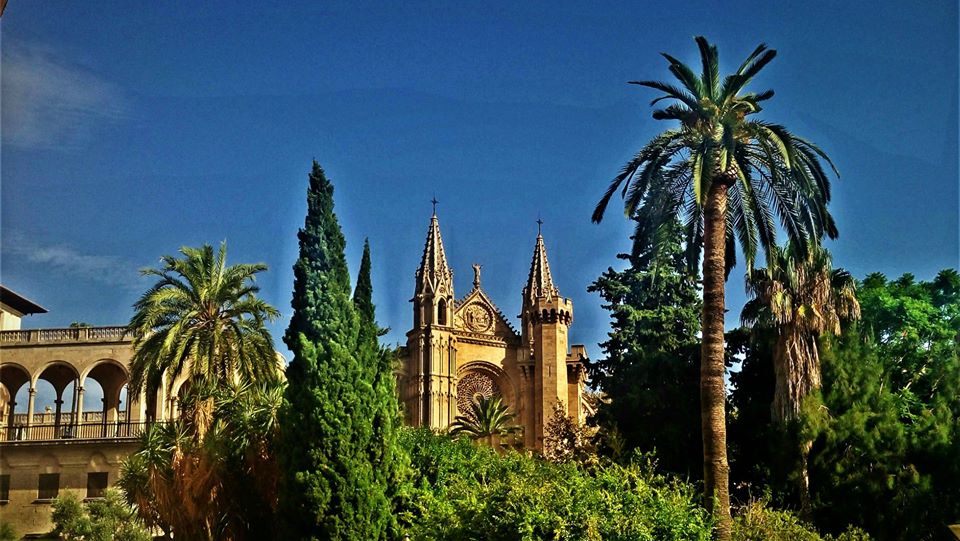 Listed alphabetically 
Almudaina Palace
C/. del Palau Real, Palma. Tel: 971 214 134
Open April to September from 10.00 to 20.00, October to March 10.00 to 18.00. Closed on Monday. Still used for some state occasions. Visitors can see the king's courtyard, the St Anna Chapel, the St Praxedis Chapel and the throne room. Externally the central tower features an angel by Camprodon about which Robert Graves wrote "it acts as a weather cock, and the Mallorquins describe an unstable man as being like the Palace Angel". For EU citizens entrance is free on Wednesdays and Thursdays from 17.00 to 20.00. This visit combines well with a tour of the Cathedral.
Arab Baths
C/. de Can Serra 7, Palma.
Open 10.00 to 18.00. One of the few existing relics of the Arab occupation, this is thought to be the private baths of a rich family.  It only comprises two rooms and a pleasant garden.
Auditorium
Paseo Maritimo 18, Palma. Tel: 971 735 328.
Web: palmaauditorium.com/en. There are two theatres, one with a 2000 seat capacity. The programme is varied and includes concerts, ballet and musicals. There is a car park on the opposite side of the Maritimo.
Bellver Castle
C/. Jose Cela, Palma. Tel: 971 735 065
Open Tuesday to Saturday 10.00 to 19.00. Sunday 10.00 to 15.00. A 'must' on every visitor's list, almost unique in its circular shape. It contains an interesting museum  explaining the history of Palma.
Caixa Forum
Plaza de Weyler 3, Palma. Tel: 971 178 512.
Open 10.00 to 20.00. Located in the former Grand Hotel which the Caixa Bank completely renovated to form an exhibition center and theatre. The displays and events vary throughout the year and a programme can be found on the web at  caixaforum.es. There is a good restaurant in the building. Tel: 971 491 453
Cathedral (La Seu)
Placa la Seu, Palma. Tel 971 723 130
Open 10.00 to 16.00. There is an admission charge but it includes a visit to a museum.
This truly magnificent gothic style building features one of the world's largest stained glass rose windows and there is a wrought-iron canopy by Gaudi over the altar.
Colcada de la Beata (Procession)
One of the three major processions in Mallorca dedicated to Santa Catalina Tomas. Held in Palma on the 3rd Saturday of September it features floats and bands with big-headed figures and devils to add to the fun.
Es Baluard Museum
Porta de Santa Catalina 10, Palma. Tel 971 908 200
Open June to September from 10 to midnight and October to May from 10.00 to 20.00.  Closed on Sunday in the winter period. This substantial collection of modern and contemporary art includes works by Juan Miro, and Picasso in an impressive setting within the old city wall. There is a restaurant in the complex.
Mills Museum
In Mill d'en Garleta 14, Es Jonquet, Palma. Tel: 676 838 477
Open Tuesday and Thursday 10.30 to 12.30. Near Santa Catalina. The mill houses an interesting collection of models and pictures illustrating the history of windmills on Mallorca. Admission is free.
Museum of Decorative Arts
C/. de Soller 11 (Km 4) on road from Palma to Soller.
Open 10.00 to 13.30 and 15.30 to 18.00, Monday to Friday. Saturday morning only. The museum opened in 2015 and it houses many of the exhibits formerly on display at the Museum of Mallorca.  A visit by a group of around 20 found much of interest. It aims to show a large part of the culture of Mallorca prior to tourism. The collection is housed in a typical mallorquin house in separate rooms and includes  ceramics, pictures, jewellery, clothing, musical instruments and toys. There is ample parking.
Museum of Mallorca 
C/. Portell 5, Palma (Nr. Cathedral). Tel: 971 177 838
Open Monday to Friday 11.00 to 18.00, Saturday 10.00 to 14.00.
For those with little interest in archaeology the 16th century building will be of more interest than much of its content. Many former exhibits are now displayed at the Fine Arts and Decorative Arts Museum but there are still some good pictures.
Pueblo Español
Pueblo Español 55, Palma. Tel: 971 457 633
Open November to March 9.00 to 17.00. April to October 10.00 to 18.00
Web: puebloespanolmallorca.com. A collection of buildings replicating, on a reduced scale, prominent buildings in Spain. The effect is a village with cobbled streets. There is also one of the largest conference halls in Mallorca which houses major events. Situated off the Andrea Dora about 1 km from the center of Palma. Parking is available.

San Carlos Military Museum
Dique del Oueste, Porto Pi. Tel: 971 402 145
Open Tuesday to Sunday 10.00 to 14.00. In a superb setting this old fort has been converted into a really interesting museum with hundreds of exhibits including model battle scenes, swords, guns, uniforms and military equipment. There is ample parking and a cafe/restaurant with fine views.  Admission is free.
San Antoni Abat
One of the major fiestas, celebrated throughout the island, is dedicated to Saint Antoni, the patron saint of animals. Bonfires are lit in the streets on January 16th – the eve of Sant Antonio Abat, and on the 17th there is a parade of farm animals and domestic pets from Palma cathedral to the church of San Antonio in C/. San Miguel where they receive a blessing.
Sa Rua (Carnival)
Carnival parades are held throughout the island but by far the largest is in Palma on the last Sunday before lent. The procession of floats, dancers, acrobats and bands takes around two hours to pass by.
Toy Museum (Museu de sa Jugueta)
Ç/. de la Campana 1, Palma (Nr. Sta Eulalia). Tel: 971 715 208.
An extensive collection of toys, many of which were previously displayed at Sa Pobla. They include dolls houses, ships, cars, model theatres and games. A recent visit was much enjoyed by all age groups.

Train to Soller
From 10.10 to 19.40. This antique train has operated since 1913. It departs from the station in Placa España and makes the 23 km trip to Soller via Bunyola with some fantastic views on the way. Ancient trams then continue the journey to the Port of Soller.  It is particularly popular when the almond blossom is out.
Tres Reyes
The first of the many traditional festivals Tres Reys or the Three Kings is celebrated on the evening of  January 5th throughout the island. The largest and most spectacular parade is in Palma where the kings arrive by boat and then process around the city together with so many decorated floats that the procession takes over an hour to pass.
Listed alphabetically 
Bahia Mediterraneo
Paseo Maritimo 33, Palma. Tel: 971 457 653
Web: bahiamediterraneo.com. Located on the 5th floor of what was a major hotel on the Maritimo. There is a lift. Extensive menu with pices in the upper range. We like dining in this superb setting overlooking the Bay of Palma. 
The Boathouse
Ave. de Gabriel Roca 33b, Palma. (opposite the Auditorium) . Tel: 673 039 267
Open 9.00 to 22.00. Mediterranean and international dishes at reasonable prices on the waterfront. There is parking nearby. We like to eat here before or after viewing a performance at the Auditorium.
Celler Pages
C/. Felip Bauza 2, Palma (Nr. Passeig des Born). Tel: 971 726 036
Open 13.00 to 16.00 and 20.00 to 23.30. Small restaurant offering Spanish cuisine with good choice of vegetarian and gluten free. Medium prices. We like the friendly atmosphere.
Celler Sa Prensa
Placa Obispo Berenguer de Palou, Palma (Nr. La Rambla). Tel: 971 723 529
Open 7.30 to 23.30. Large rustic Mallorquin restaurant serving fairly basic traditional food at moderate cost. Very popular with residents. We like eating with the locals at this informal location.
La Cueva
C/. Apuntadores 10, Palma. Tel: 971 724 422
Closed Monday. There are two restaurants. The one below street level has more character. Small and friendly. We like the great tapas.
Fabrica
C/. Cotoner 42-44, Santa Catalina, Palma. Tel: 971 453 125
Open 13-15.30 and 20.30-23.00- Bistro with varied menu including hamburgers We like the moderate prices.
Forn de Sant Joan
C/. de Sant Joan , Palma. Tel: 971 728 422
Open every day from 13.00 to 16.00 and 19.00 to 23.30. Located in a former 19th century bakery. Mediterranean and international cuisine in medium to higher price range. We like the somewhat unusual location.
Hotel Isla Mallorca
Alferes Cerda 7, Son Armadans, Palma. Tel 971 281 200.
Open all day. Excellent buffet with wide choice in pleasant surroundings at reasonable price. About 1.5 km from city center. We like the extensive choice of well-presented dishes and the chef available to cook any meat that you select.
Made in China
C/. Ramon y Cajal 15, Palma. Tel: 971 773 084
Open every day 12.30 to 16.00 and from 20.00 to midnight except Monday.
Authentic Chinese food in modern surroundings at affordable prices. Also suitable for vegetarians and vegans. We like the extensive selection of well presented dishes.

Marc Fosh
C/. Missio 7A (Nr. Rambla) Palma. Tel: 971 720 114
Open 13.00 to 15.00 and 19.30 to 22.00.
Situated in former 17th century convent. Michelin star quality. Upper price bracket. We like the high quality of the cuisine and service.
Nimos Arrosseria
C/. Bisbo Pere Puigdorfila (Behind Ocemax cinema), Palma. Tel: 971 498 774.
Open 12.00 to 23.00. Large restaurant specialising in rice dishes and tapas. Popular with locals. Private dining rooms available for groups. We like the extensive choice at reasonable prices.
Pizzeria Giovanini
C/. Apuntadors 4, Palma. Tel: 971 728 589
Open Monday & Wednesday to Saturday. 13.00 to 15.30 & 19.30 to 23.45. Closed Tuesday. Open Sunday 20.00 to 23.45. Speciality is pizza at moderate prices. We like the genuine Italian atmosphere.
Restaurant Rififi
Ave Juan Miro 182 (Nr. Porto Pi Center) Palma. Tel: 971 402 o35. Open Wednesday to Monday from 13.00 to 16.00 and 19.30 to 24.00. Closed Tuesday. Famous for seafood at moderate to upper price range. Childrens' menu available. We like this restaurant for the wide choice of high quality fish dishes.
Restaurante Rosini
C/. Pi 6 (Behind Corte Ingles on Jaime III) Palma. Tel: 971 720 235
Open  13.00 – 15.30 and 20.00-23.00. Closed Sunday. We like this for Italian cuisine at medium prices.

Restaurante Toque
C/. Frederico Garcia Lorca 6, Son Armadans, Palma.  Tel: 971 287 068
Open 13.00 to 15.00 and 20.00 to 23.00, closed Sunday and Monday and most of August. We like this for its consistent high quality cuisine with French/Belgian influence at reasonable prices.