Central Mallorca – The "Pla"
DESCRIPTION OF THE AREA
Central Mallorca is largely occupied by the great plain – the pla – which is dotted with windmills. As one heads east on the road from Palma to Alcudia the mountains of the Tramuntana form a background to the north while a few large hills decorate the area to the south.

The Monastery at Randa
The town of Randa is at the base of one of the hills  and the monastery is at the summit. The view from the top is not to be missed and there is a good restaurant in the monastery.

Petra and Fray Junipero
Petra is the birthplace of Fray Junipero Serra who founded the missions in California which were to grow into the cities of Los Angeles, San Diego, Monterey, San Jose and San Fransisco. His modest house is open to the public and the Junipero Serra museum is close by.

Sineu and Camponet
Sineu holds a very large market every Wednesday which attracts many tourists as well as the local community. 
Campanet is known for its extensive caves which are amongst the most recent to be discovered on the island.

Inca and Binissalem
Inca holds its large market every Thursday. It is the third largest town on Mallorca after Palma and Manacor.
Binissalem has a confusing network of one-way streets. It is famous for its wine festival held on the last Sunday in September.

The picture of  the Sanctuary at Randa below was taken by Claire Baker.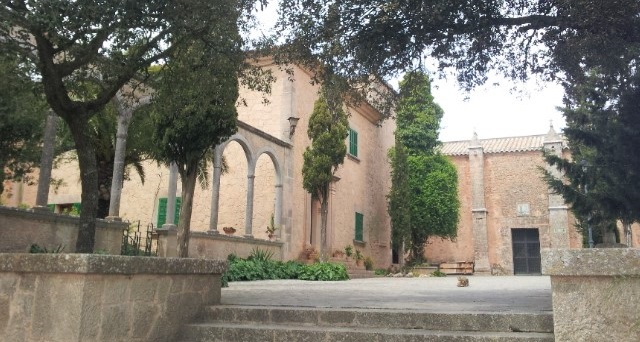 Listed alphabetically by location.
Alaro Castle
Open all year. On the hill above Alaro near Binissalem. This visit involves quite a steep climb of around 800 metres but the views from the top are spectacular. The castle is partly ruined but 5 towers remain in the walls. The path is well signposted locally.
La Iglesia de Cristal (The Glass Church)
Ave. Fra Joan Llabres 1, El Arenal. Tel 971 260 002
Web: spiritualmallorca.com. An unusual church with walls almost entirely composed of stained glass. Designed by Josep Ferragut in 1964.
Feste des Vermar (Grape Festival)
Held in Binissalem during the last week in September. Events include grape treading competitions, contest for the best bunches of grapes and a grape throwing battle. It all culminates in a dance festival with traditional Mallorquin dance groups followed by the whole village joining in to dancing and sampling the new wine crop.
Sa Caragolera (Snail Farm)
Cami des Batadors, Binissalem. Tel: 639 374 488. 
Situated close to the Jose Luis Ferrer winery. To visit it is best to ring for an appointment. Our last visit involved a party of over 20 all of whom were fascinated by the tour of the snail farm. There is a restaurant attached to the farm open for lunch and dinner, snails are naturally the speciality but excellent alternatives are available.
Raixa
Off the M11 road at Km 12.2, Nr. Bunyola. Tel: 971 237 636
Open 10.00 to 15.00 Tuesday to Saturday. Web: raixa.conselldemallorca.cat. There is ample car parking and admission is free. An interesting house and grounds now in the care of the Consell of Mallorca. The long staircase in the garden featured in the film Evil Under the Sun.
Son Amar
Carretera Palma to Soller at km 10.8 (Near Bunyola). Tel: 971 617 533
Open Monday to Saturday 9.00 to 17.00, Tuesday and Wednesday 18.30 to 00.00 and Friday & Saturday 19.30 to 00.00. Dinner and truly spectacular show at inclusive prices according to menu. Very large capacity but booking advisable.
Black Vulture Conservation Foundation
Finca Sons Pons, Cami de Na Pontons, (behind Campsa petrol station on M713) Nr Campanet. Tel: 971 575 880
Open Monday, Friday and first Saturday in the month from September to May from 10.00 to 14.00 and from June to August from 9.00 to 13.00.
This is a sanctuary catering for injured vultures from all over Spain. They can be observed from a hide and there is an exhibition center providing information on the work of the sanctuary.
Caves of Campanet
Well signposted from junction 37 on the Palma to Alcudia motorway near Campanet. Tel: 971 516 130
Open 10.00 to 17.30 in winter and 10.00 to 18.30 in summer. Web: covesdecampanet.com/en. These caves are not as widely promoted as those on the Eastern coast but they are quite dramatic with good lighting. They feature a series of chambers, the largest being 50 metres long and 10 metres high with stalactite and stalagmite pillars. The tour takes 40 minutes. There is a cafe and ample parking. 
Museum of Natural Sciences
Carrer Rafel Herrach 2, Costitx. Tel: 971 876 070
Open Tuesday and Thursday from 10.00 to 13.00. Contains a surprisingly large collection of stuffed birds and animals. butterflies, moths, marine creatures and fungi.
Planetarium and Observatory of Mallorca
Cami de son Bernat 9, Costitx. Tel: 638 045 817
Open Friday and Saturday from 19.00 to around 21.00.The surprisingly large modern planetarium in this remote location is currently run by volunteers. In our opinion the excellent presentation may be too advanced for young children. A visit also includes viewing through one of several telescopes on the site which participates in world wide astronomical research.
Museum of Footwear and Leather
Ave. General Leique 223, Inca. Tel: 871 911 643
Open Monday to Friday 10.00 to 14.00 and 16.30 to 20.00. Saturday 10.00 to 13.00. An interesting modern exhibition in the old cavalry building illustrating the history of the industry on two floors. It includes examples of the machinery employed and examples of old footwear.
Es Calderers
Situated off the Palma to Manacor road (715) at Km 37 at St Joan, Nr. Monturi. Tel: 971 526 069
Web: elscalderers.com/en.  Open 10.00 to 18.00 from April to October and 10.00 to 17.00 November to March. An old restored manor house that still contains its period furniture. The grounds feature a smithy, farm buildings with animals, workshops and ancient farm machinery. Allow 1 – 2 hours.
Orquidia Pearls 
At Km 30 on Ma 15 at Montuiri. Tel: 971 644 144
Open  9.00 to 19.00 during week and 9.00 to 13.00 at weekends.Web: www.perlasorquidia.com.  Factory and shop for artificial pearl necklaces and broches in silver or gold settings.
Festival Park
Motorway PM27 Km 7.i (Nr. Marratxi). 
This comprises outlets for famous fashion brands selling ends of ranges at discounts up to 70%, other shops, many restaurants and the multi-screen Cinesa cinema (www.cinesa.es for programme). We like the Restaurant Mascaro on the upper gallery.
Miro Mallorca Foundacio
C/. de Saridakis 29. Palma. Tel: 971 701 420
Open Tuesday to Saturday 10.00 to 18.00. Houses a collection of paintings and sculptures by Joan Miro in an unusual purpose-built museum.
Palma Aquarium
Manuela de los Herreros i Sora 21, Palma. (Nr. C'an Pastilla) Tel: 902 702 902. 
Open every day from 9.30 to 18.30. This is an excellent example of a modern aquarium situated not far from Palma airport. Very popular with children. Allow 2 to 3 hours for there is much to see. There is also a cafe for light meals.
Trui Theatre
Cami Son Rapina, Palma (Just off Via Cintura). Tel: 971 783 279
Modern theatre with a broad programme which includes concerts, plays, sports events and conferences.
Palma Aquarium
Manuela de los Herreros i Sora 21, Palma. (Nr. C'an Pastilla) Tel: 902 702 902. 
Open every day from 9.30 to 18.30. This is an excellent example of a modern aquarium situated not far from Palma airport. Very popular with children. Allow 2 to 3 hours for there is much to see. There is also a cafe for light meals.
Miro Mallorca Foundacio
C/. de Saridakis 29. Palma. Tel: 971 701 420
Open Tuesday to Saturday 10.00 to 18.00. Houses a collection of paintings and sculptures by Joan Miro in an unusual purpose-built museum.
Sanctuary of Cara
Located at Randa. (See description under restaurants.)
Bodega Celler Ramanya
Cami dels Coscois 16, Santa Maria. Tel: 680 417 929
A tour lasting approximately 90 minutes includes the winery and a very extensive collection of old tools in authentic settings. There is also a large display of ancient carriages including a hearse. Contact can be via a form on their website at www.bodegaramanya.com. There is also a restaurant.
Fira de s'Oliva (Olive fair)
Held in Caimari (Nr Selva)  on the Saturday and Sunday of the last week in November.
Demonstrations  of how the oil is produced with many samples on sale. Also demonstrations of how the almond crop is processed. Nearby there is a small ethnological museum comprising a replicas of ancient crafts including charcoal burning, a lime kiln and a snow house.
Listed alphabetically by location.

Restaurant Binicomprats
Located at km 22.7 on Ma 15 Palma to Manacor Road near Algaida. Tel: 971 125 411.
Open 10.00 to 19.00. This is a large buffet style restaurant very popular with the locals. No atmosphere but unlimited food at moderate cost. We like the huge car park.
Restaurant Ses Torres
Located on the Ariany roundabout on the Inca to Manacor road. Tel: 971 830 429 Same management as Binicomprats and same style of large noisy restaurant serving mallorquin food buffet style at low cost. Usually crowded. We like the ample parking.
Restaurant Menestralia
Autopista PM27, Junction 35, Campanet. Tel: 971 516 737
Open 8.00 to 17.00. Web: www.restaurantmenestralia.com. Extensive buffet is constantly replenished. Popular with clubs and associations. Not much in the way of ambience but we like the great value and consistent quality.

Cellar C'an Ripoll
C/. Juan Armengol 4, Inca. Tel: 971 500 024
Open every day from 12.30 to 15.30 and 19.30 to 23.00 from Monday to Saturday. Traditional Mallorquin cuisine at reasonable prices. We like the garden terrace.
Restaurante C'an Amer
Carrer dela pau 39, Inca. Tel: 971 501 261.
Open 13.00 to 16.00 every day and  19.30 to 00.00 from Monday to Saturday. Located in old bodega. We like the traditional Mallorquin and European cuisine.
Restaurante Canyamel
Ave Jaume I 16, Inca. Tel: 971 507 572
Open only for lunches. Inexpensive Spanish buffet and menu del dia daily. We like the convenient location.
Restaurant Puig de Santa Magdalena
C/. Santa Magdalena, Inca. (Turn off M13 at Junction 13 or 13a and head south, turn left at T junction, then 1st right on to C/. Santa Margaleda and wind to top of hill.) Tel: 871 870 199. Open  Monday to Thursday 10.00 to 16.00  and  Friday to Sunday 10.00 to 19.00.
Traditional Mallorquin restaurant location. Speciality is cordero al horno. Medium price range.  We like the unusual location high up a mountain.
Restaurant C'an Jaume
C/. Alaro, Orient (on road to Bunyola) TeL: 971 615 153
Closed on Tuesdays. Mallorquin cuisine. One speciality is serving an entire suckling pig to groups which is then cut with a plate by the chef. We like the family atmosphere.
Restaurante Wok
Gran Asima 5, Poligono Son Castello, Palma. Tel: 971 432 128
Open 12.30 – 18.30 and 20.15 – 23-45.  Very wide selection with Asian  influence, buffet style but chefs will cook meat and fish in front of you while you wait. No ambience but we like the excellent value.
Restaurante Es Celler de Petra
C/. Hospital 46, Petra. Tel: 971 561 056
Open 1200 to 00.00 every day. Located in an old bodega. Offers typical Mallorquin and barbequed food. We like the reasonable prices. 
 
Sanctuary of Cara
Off Algaida to Lluchmajor road at Randa. Tel: 971 120 260. 
The monastery is open from Monday to Saturday from 10.00 to 13.00 and 15.30 to 18.00 but the cafe and restaurant are also open for lunch. The cafe will be full of cyclists, but the large restaurant is quiet and pleasant – we have enjoyed some excellent meals there at moderate cost. There is a small museum in the monastery. We like the superb views from this location at the top of a mountain.
Moli des Torrent
C/. Bunyola 75, Santa Maria. Tel 971 140 503
Open 19.30 to 22.30 – closed Wednesday and Thursday. We like the location in a restored windmill. Traditional Mallorquin cuisine with a German influence. In the upper price bracket.

Restaurant Moli d'en Pau
C/. Santa Margalida, Sineu. Tel: 971 855 116
Open from 13.00 to 15.30 and 19.00 to 22.30. Mallorquin cuisine is a speciality but there is a varied menu. Situated next to a windmill on the Santa Margalida to Petra road. We like this for a meal after a visit to the large market in Sineu.