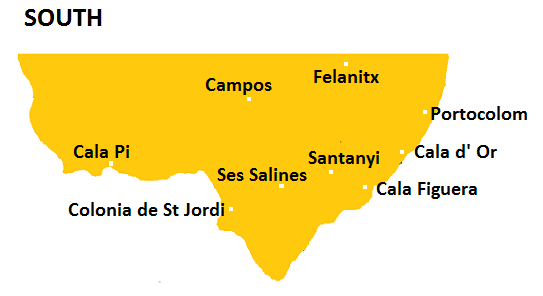 DESCRIPTION OF THE AREA
Southern Mallorca is the driest part of the island. The eastern coast features some popular resorts including Portocolom with its attractive harbour, Cala d'Or with its beach and Cala Figuera which clings to the banks of its creek and is much beloved by painters and photographers.
Colonia de Sant Jordi is a port from where you can take a boat to the island of Cabrera. 
The western part of the area is lightly populated, offering good sea views and unspoilt open country.
The picture of Cala Figuera below was taken by Claire Baker.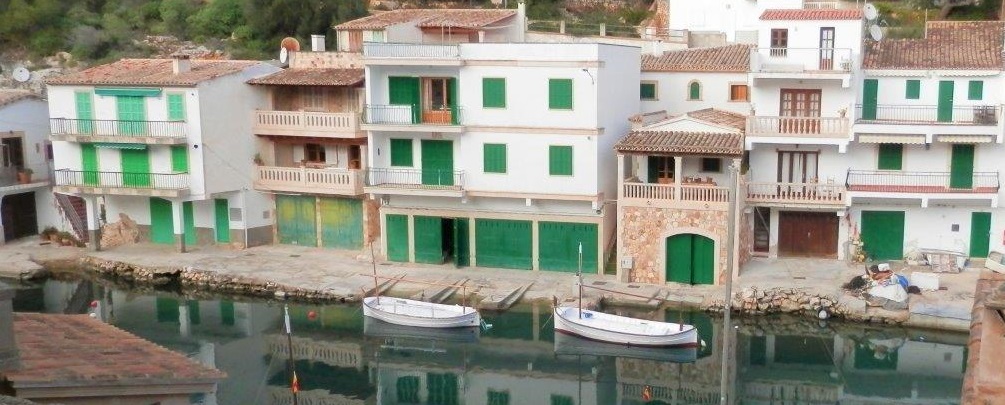 Listed alphabetically by area
Botanicactus
C/. Ses Salines to Santanyi Km 1, Ses Salines. Tel: 971 649 494
Web: botanicactus.com. Open 9.00 to 19.30. The large grounds contain a lake and many walks through a wide variety of cacti and desert plants, palms and a bamboo grove.  More interesting than it sounds and a group recently enjoyed a visit. Claims to be the largest botanical garden in Europe.
Colonia de Sant Jordi
This relatively small but attractive port is the departure point for boats to the island of Cabrera. Options include a whole day trip and an evening visit to watch the sunset from the blue grotto.

Mondrago Natural Park 
Located east of Santanyi. The park is fairly well signposted on roads to S'Alquera Blanca and Cala Figuera. A website at en.balaersnatura.com provides a good description of how to get there and the many things to see. There is ample free parking, a sandy beach and numerous walks in the 766 hectares. 

Ses Salines features extensive salt pans which attract a wide variety of birds. Nearby the large Botanicactus garden makes an interesting visit.
Listed alphabetically by area
Celler Ca's Brau
Ave Cala Gran 7, Cala d'Or. Tel 971 659 511
Open 11.00 to 23.00. Located just outside the main tourist area. We like this small family run restaurant serving traditional mediterranean dishes in a quiet street.   
Churchills Tapas Bar
Ave Cala Llonga, Porto Cari, Cala d'Or. Tel: 698 757 767
This small bar restaurant offers a wide choice of tapas at moderate prices. We like the convenient location.       
La Bodega Mallorca
C/. Andreu Roig 5, Cala d'Or. Tel 971 657 468
Open 11.00 to 24.00. Spanish restaurant in a central location. Can be rather busy but we like the good food at moderate prices – especially the tapas.
Asador de Teatre
Plaza San Bartolomo 4, Ses Salines. Tel: 971 649 540
Open 12.00 to 23.00. Closed Wednesday. Popular for Sunday Lunch. Speciality is grilled meat. Medium price range. We like the location in a 19th century building with a large terrace.