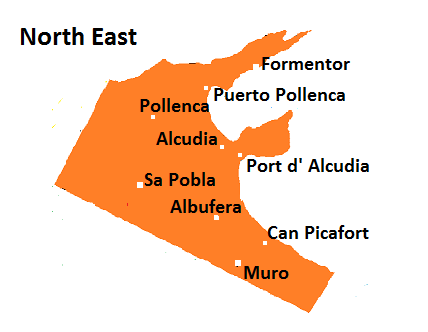 The Formentor Peninsular and major towns in North-East Mallorca
DESCRIPTION OF THE AREA
This section embraces the Formentor peninsular, Pollenca, Puerto Pollenca, Alcudia,  Port d'Alcudia and Can Picafort.
The northern part is mountainous and the road to Cap de Formentor from Puerto Pollenca is long, narrow and winding so it is closed at peak holiday times and a bus service is provided.It provides some magnificent views, particularly from the Mirador Es Colomer. There is a fine beach at Formentor but access is restricted by the hotel, however, it can be reached by an enjoyable boat trip from Puerto Pollenca.
Pollenca town
Pollenca itself is an interesting town, famous for its annual enactment in August of a raid by Moorish corsairs when mock battles rage throughout its streets. Its Calvary hill boasts 365 steps and is the scene of an Easter davallament recording the taking down of Christ's body from the cross.
Alcudia area
South of Puerto Pollenca the ground flattens and the road to Alcudia skirts a long sandy beach with the Albufera wetlands park behind it.
Alcudia with its protective walls is well worth a visit, nearby its port offers a wide choice of bars cafes and restaurants. The picture below is a view from the road to Formentor taken by Dr Michael Stoma.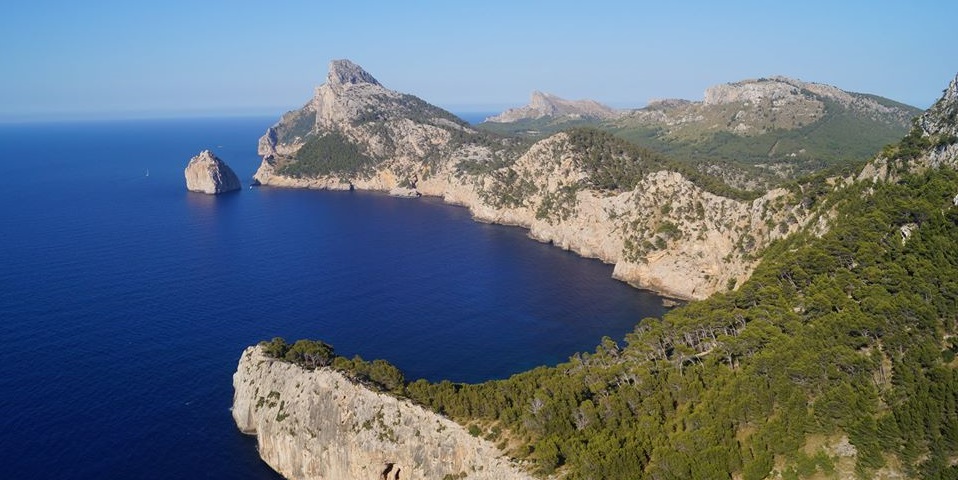 Listed alphabetically by location

Albufera Natural Park
Off road from Can Picafort to Alcudia. Tel 971 892 250.
Open 9.00 to 18.00 from April to September and 9.00 to 17.00 October to March. 
This extensive wetlands park combines fresh and salt water. It attracts many species of birds and is a favourite of many ornithologists. There are many hides for convenient viewing.
Festa des Butifarro
Held in Alcudia on the first weekend in October. This is a large agricultural and trade fair. On the Saturday a group in carnival costumes dance in the streets.

Sa Bassa Blanca
Cami Coll Baix, Es Mal Pas, Alcudia. Tel: 971 549 880
Open Monday to Saturday 10.00 to 18.00. Website: www.msbb.org. House and grounds created by Yannick Vu and Ben Jakober in a superb setting overlooking the Bay of Alcudia. There are two large underground display areas, one with a collection of pictures by old masters featuring the  Bourbons, Savoys, Hapsburgs, Medicis, Tudors and Stuarts, the other dedicated to modern works. In the grounds there are numerous sculptures and a fine rose garden. The house is modelled on an Arab fort and can be visited at additional cost.
Roman Remains of Pollentia
On ring road at Alcudia. Open Monday – Friday 9.30 to 21.00 and 9.00 to 13.00 on Saturday and Sunday. Web: www.alcudia.net/pollentia/ca. These are well signposted and date from around 123 BC. They are relics of a Roman theatre and the ancient city of Pollentia. There is a museum near the church in Alcudia which displays objects discovered on the site.
Ethnological Museum of Mallorca
C/. Major 15, Muro. TEL: 971 860 647
Open 10.00 to 15.00, also 17.00 to 20.00 on Thursdays. Most of the displays are arranged as a series of furnished rooms in an interesting old building. Exhibits include tools and domestic objects such as whistles, silverware, musical instruments and leatherwork. There is also a small collection of old carriages.   
Battle of Moors and Christians
Enacted in Pollenca on August 2nd to commemorate the victory of the residents against an attack by pirates. Mock battles rage in the streets for hours. with the participants wearing appropriate dress.
Procession of Santa Catalina Tomas (The Beata)
Held in Santa Margalida on the first Sunday in September. Consists of a series of decorated floats, dancers and village bands. The girls wear traditional dress and hide clay pitchers under their aprons. The boys, dressed as devils, watch from the side and when they spot a pitcher they rush in, snatch it and smash it on the road.
Listed alphabetically by location
Restaurant Golf Alcanada
C/. del Faro, Alcanada, Near Alcudia. Tel: 971 549 560
Open Sunday 8.00 to 21.00, Monday 8.00 to 20.00, Tuesday to Saturday 8.00 to 22.00. Choice of two set menus, one in the higher price range, and lighter meals at lower cost. We like the fine view over the bay of Alcudia from the large terrace.

Bodega d'es Port
Teadoro Canet 8, Puerto de Alcudia. Tel: 971 549 633.
Open 8.00 to midnight. Mallorquin restaurant with an established reputation. Tapas, fish, barbacued meat and paella. Situated on the coast road to the east of the port. We like the excellent menu del dia at modest cost. 
Beach Bar at Hotel Formentor
Carrer Zona Formentor, (Near Puerto Pollenca) Tel: 971 899 100. 
We prefer this to the excellent but more formal hotel restaurant. The road from Puerto Pollenca is long, narrow and winding so we usually  take a boat from Puerto  Pollenca – they are quite frequent and take you directly to the beach. The Beach Bar is semi-buffet – you select your meat or fish and the chef cooks it. Prices are reasonable. We like the up-market atmosphere and the link to the hotel which we first visited in 1954.
Restaurant El Galeon
Llenaire, Puerto de Pollenca. (On edge of the Puerto on road to Alcudia). Tel 649 607 513
Open 8.00 to 22.00 every day.This is the restaurant of an aparthotel but it is also open to the public. It features mediterranean seafood at moderate prices. We like its location, just enough distance from the town to make parking convenient.